Hassan Faghihi
FullStack Developer / Photographer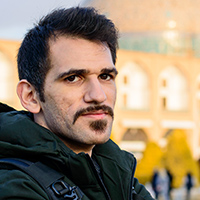 Hassan Faghihi
FullStack Developer / Photographer
I am Hassan Faghihi, a full-stack developer, currently working at ravis company, also a photographer enthusiast. The most portion of my job is regarding to implement services and provide needed sub-structure. I also have enough knowledge about basics of router, network, and windows server configuration, including IIS, DNS, Active Directory, etc... to be able host my own websites including this (faqihi.ir) self-introduction.
Work Experience
For Companies
Java Web Programmer and Content Manager @ BEDKA

2011(~8Month)

My very first job started with "behin Dade Kavan'e Arian" (BEDKA) company as a part time worker. Which at first started with content managing, including HTML/CSS work, and then end with writing JSP, Spring, and Hibernate code in JAVA. The reason i start this work was to put the knowledge we earned into practice. The reason i left, was because the manager didn't seem to want to pay me, after six month.

bedkaco.com -- Link Does Not Exists Anymore

Windows Form And Service Programmer @ Faradid

2014-2015

Once i took my Bachelor of Science, i start working for "Faradid Rayan Afzar" Company. The very beaning task i received was to modify a graphical chart (Gaunt Chart), they required some features, and also the some parts of the chart was buggy, once i finished with the chart, i received various task to performed and provide sub systems and components of the bigger system. The reason i left was, since the company had lots of un-paid money in hand of governmental organization and it was about to get bankrupt, so they decide to disband it.

Link: Faradid

Full-stack Developer @ Ravis

2015-Now

The "Ravis Andish Chehelsotoon" known as "Ravis" or previously as "Farasoo", company is a leading company in travel industry, they provide software for travel agencies, including online flight, tour, and hotel reservation or management system. My job in this company is to implement other company services, or provide one, research and providing new features, work on sub-systems, and solve complicated programming issues. some of popular system, with everyone access to projects of this company are including: en45.com (local) / eng45.com (international), alaedin.travel, and ravis.ir

Link: Ravis
Self Employment
Micro Projects

2005-2012

In 2015 i first learn how to material C# to create ASP.NET Web-Forms Application, I had no knowledge of OOP programming, or C# basics, yet, i just get started. Once i finish my classes, i start working on register based feature to hide access to specific folder within windows NT, After that, i found out that Game Net folks requires a Multi-Realm Launcher for their WoW(World of Warcraft) Game, so they can switch between the servers they play into, without modification of game core fails. another project was a differences checker, put two directories under checking to find differences. since then i also wrote 2 game involved with my NIIT classes,and as last project, it was a template provider for a old game known as "Uplink - Hacker Elite", it was a paint like application, provided user with drawing, shaped objects, properties, import, export, so the user could create what he desire, and import it within the game.

Link:
Directory Lock 2 Sync
Multi-Realm Launcher

Personnel Management

2016

This project was provided do to need of some friend, it was involved with Java, Spring Core, Hibernate, and some file-based database, it also take advantage of AngularJS for it's user interface, provided the manager with calculation of user work times, on each project they had, depending on their work cards...

Link: Personnel Management

Ashiane

2017-Now

It was a project i worked on since my education years, first i wrote it in windows forms, with so complex models that NHibernate hardly handled though during the process caused discovering of so many bug that i report back to DevArt model creation software (Entity Developer) team, which is used for developing of ORM models such as NHibernate. Then i leave the project behind, so at the pointed time, again i think about it, so i though it as vast project which can target all audience, and as a website, so i rent server, configure clustered database, and start the project with .Net WebAPI 2 and AngularJS, due some issue, i stop the project, and then got involved with some tiresome job, which took me more than just 6 month. After a long time, again i start the project, and it went slowly (due to my limit time out of company). In 2019 in 4th or 5th month i stick to project hardly, and i rewrote the UI using Angular 7, in the 7th month the user input UI for entring house information was done. The Interface is still incomplete but it's close to the end of phase 1.
About The Project: This project will provide user with ability to search for homes with a very complex model scenario, this project also consume MongoDB as database.
Ashiane was one of the biggest challenge i took beside Gabriel project at Ravis.

Link: Ashiane.House

Koken

2018-Now

What i did about koken? well nothing. this project is not about programming as you was reading, it's about server configurations... As you know i do photography too, and at some point i feel the need for a website, but i was involved with so many, so i though i can search for a free template and i shall use it, so i find koken which is great, it was in PHP, and oh god how many years passed since i touched PHP... i don't also wanted to start installing all kind of services on my server, so i launched a IIS hosted version of PHP, and configured my DNS servers, getting domain, configuring firewall, directory access, Routing, SSL Certificates, etc... It is nnt my first time, but it was my project so i though i can mention.

Link: hassan.faqihi.ir
** Built by KOKEN - NOT ME

Photography

2016-Now

Although it doesn't have much of income for me, still it's more than a year, that i call my self a photographer, and is was since i was inspired since i got my first camera on 2016.
Education
Universities
Azad University of Khomeini Shahr

2011-2013

It was last university i ever attended and i received "Bachelor of Software Engineering" degree, my teacher put some conditions, and declared if you do not have any of these cases you better go start working instead of wasting your time here.

Shahid Mohajer University of Isfahan

2008-2010

This is the place i received my "Associate of Software Engineering" degree, and it was one of the most strict place in most curses, but still it was academical and not practical. the thing i liked about this university, was that one teacher who left, but had many thing for me, it was beginning of game engine era for my country, and he was one of those who started with graphical engines, so he said those who want to research and earn my best grade, shape a team, and come to me so i gave them an engine name, so they'll research it. i found no one, so, lonely, i start working with "Unity Game Engine", it was greatest experience in my life as a programmer. and i never forget this sentence he declared: "every one can do any thing, but someone should give them the name, so they can follow it" and it was true, although it took me year, or more to learn some of it, if no one mentioned it, i still looking around knowing nothing.
Courses
Dreamweaver

2005

It was my first time using HTML for more than just A and Table tags, and the subject was about "Understanding of making layout and design HTML web pages Using Dreamweaver".

ASP.Net 2.0 Web-Forms

2005

Right after Dreamweaver course i start with "ASP.NET 2 Web-Forms". It was the entry point of my knowledge to use C# language, and the subject was about "Understanding of creation of server side web application using available components and Framework (Web Forms) via ASP.Net"

NIIT (Software Engineering)

2008-N/A

I never finish this course fully, every quarter, less student attended, and some classes hardly get shaped, and i never got notification for past 5th semester. it was including: Office, SQL Server 2005, C#, Java, Object Oriented, Data Structure, XML definition and validation, JavaScript, and Application Database Connectivity, ...

Oracle Database Fundamental

2014

There is a popular company in my city, using oracle for many things, so the name of oracle got popular, and was cool to learn it, so i just attend the course, the course was about:
Learning the fundamental of Oracle Database, and also how to query its data, also knowledge of how to program in database level.

MongoDB

2017-2018

It's some year that NoSQL got popular that every programmer know hear the name, and know a basic maybe correct or incorrect description about it, to tell you. Long ago i write an incomplete project about Real Estate software using windows forms, and i leave it at the ending point, the requester didn't follow, the university exam begins, and lot of things happened that discouraged me, even people said it's waste of time. So i left it behind, i was using complex structure with inheritance and parent child models, which somehow i managed to pass it to NHibernate ORM, and it was handling it for me, After years when i wanted to start my project as web based project, i again wanted that complex model, but i was unsure if i should use that packages, i was going for a bigger audience and as a service that should serve all from one server... so i did some little research and i choose MongoDB, i partially take course that provided by mongodb website, and until now i happen to take:

M101N: MongoDB for .NET Developers
M102: MongoDB for DBAs
M001: MongoDB Basics
M103: Basic Cluster Administration
M121: The MongoDB Aggregation Framework
M201: MongoDB Performance
Self-Investigation
Miscellaneous
Being Awesome

1989-Till Death

As i worked on projects seeing thing that comes handy, getting to be used by millions of people, or at least have effect of my work on them, i get inspired to learn more, and to do more